Microsoft Chooses Advania as Partner of the Year 2019
Advania has received honours from Microsoft Iceland for outstanding collaboration. The award marks the second year in a row Advania has been named Partner of the Year. Advania Marketplace also received a special award from Microsoft.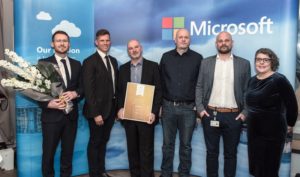 Photo: Representatives from Advania accept the Microsoft Iceland 2019 Partner of the Year award and a special award for Advania Marketplace from the CEO of Microsoft Iceland.
Microsoft Iceland recently announced its 2019 Partner of the Year award. Advania received the honours for a second consecutive year. According to a statement from Microsoft Iceland, Advania has excelled in information technology solutions, innovation and the implementation of Microsoft solutions. The two companies share an operational focus which emphasises cloud services, increased automation and efficient business systems. One of the fruits of the collaboration is Advania's PMAx solution getting published on AppSource, Microsoft's international marketplace for specialised solutions.
Advania is the largest service provider of Microsoft solutions in Iceland and employs a large number of experts who provide consultancy services for the entire range of Microsoft solutions. The strong partnership increases Advania's service quality.
Special honours were awarded to Advania Marketplace, a centralised web portal which enables customers to buy and provision various licenses and services. According to Microsoft Iceland the automation of software purchases and license provisioning represented a paradigm shift for the business model in the Icelandic IT sector. By initiating this project, Advania has taken great leap into the future.
---
---