Microsoft Provide Real Insight at the DynamicsPact CEO Conference
Back in April we held our annual conference for the CEO's of DynamicsPact members in Amsterdam to coincide with the AXUG event. This event, now in its 12th year (wow, where did that go!) is always alive with hot topics and energetic debate around the business we all make our livings out of.
Microsoft Big Hitters Fly In!
Microsoft have always had a close working relationship with DynamicsPact and its members and we usually manage to get one or two top people to share their views and address our delegates. However, this year we broke our record with three key Microsoft leaders from the world of Dynamics 365 for Operations!
In the morning session AXpact Chairman, Michael Blatherwick welcomed Chandru Shankar (Manufacturing Industry Director) to an AXpact Conference for the fourth time. Chandru was his usual honest and entertaining self and looked at what digital transformation means in the manufacturing sector going forward.
We then broke for lunch and were joined by our after-lunch duo, Mike Ehrenberg (Microsoft Technical Fellow & CTO for MBS) and Sri Srinivasan (Microsoft General Manager) who were scheduled for an hour but stayed for nearer two.
Without any slides, they talked openly about their strategies and future vision for Microsoft Dynamics 365 for Operations. They listened to how DynamicsPact members were doing and the challenges they currently faced. They fed back that there is a feeling of real energy around Microsoft about the new release. In fact, he had only recently presented it to Satya Nadella who was "extremely positive" about the forthcoming release and the alignment of Microsoft's leading ERP solution with their Azure strategy.
Over the next couple of hours, we learned about the plans for the next 18 months and beyond. This provided DynamicsPact and its' members with a wealth of information which ensures we can all plan adequately for the future. In turn, we can pass on clear communications to our colleagues, customers and prospects. Information which will stand all in good stead for the months ahead.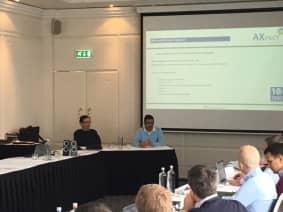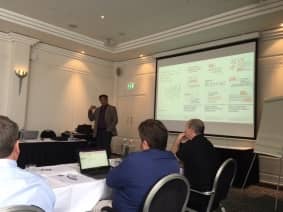 Microsoft's big hitters address the AXpact CEO's Left: Mike Ehrenberg and Sri Srinivasan Right: Chandru Shankar
Lifecycle Services Update
After Mike and Sri had departed we ended the day with a report, presentation and discussion around Lifecycle Services by AXpact Director, Keith Dunkinson. Keith had recently hosted a conference for AXpacts delivery leads and he shared the feedback and learning from that event.
Strong Turn Out
The event was attended by the business leads from over 80% of our members' including representatives from Australia, Japan, Hong Kong, South Africa, Canada and the USA. From Europe, we welcomed Poland, Belgium, France, UK, Ireland, Denmark, Sweden, Italy, Austria, Croatia, Serbia, Slovenia, Slovakia, Czech Republic and of course our Dutch member and hosts in Amsterdam, Pulse.
The 12th CEO AXpact CEO Conference was one of our best yet with great feedback from all that attended. The day ended with the usual wind down social event comprising of a very nice dinner in our canal side hotel!
---
---